WE ARE REOPENING... JUNE 20 & 21 2020
                                                        A MESSAGE FROM FR. JAMES JAEGER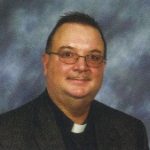 It is a blessing to be back to Mass in church. It is a blessing to have the office partially reopened too. However, a  mask is required at churches and in the office.  Speaking of the office, I like you to feel free to come in to see me.   You can also make an appointment to talk on the phone if you feel safer at home and not in public.  You can also make a Zoom appointment with me.  This a way you can see me & I can see you. Isn't new technology GREAT!    Let us use our technology and our time to reach out and connect again. This way we all can remain safe and socially distanced.
Please call the rectory (607)776-3327 and talk with Cindy so we can schedule an appointment.  I miss seeing all of you at Mass. Let us rebuild our friendship and our spirits even though we can't gather together yet as a Community.
Blessing's
Father  Jim
__________________________________________________________
The Catholic Parish Life (as we knew it) is not returning to the old normal
Part One
When I was younger, I remember the hit song from Barbara Streisand called 'The Way We Were'. The verses are apropos for us post pandemic. The verses are about those memories of the way we were. Memories both happy and painful. If we could go back, she sings would we, could we? She misses the way we were in the song. Do you remember this hit?
Pope Francis said the other day that we have a chance to better the way things were in the world and Church because of this pandemic. He is of course correct. As the saying goes, there is no going back. Some like to remind us 'this is the way we always did it'. We must forget the past, give thanks for it, and yet adapt to the new way. One veteran told me a saying that his uncle used to tell him: Yesterday is history, today is a gift, and tomorrow is a dream. There is a lesson for us here too. In the present and the now, let us do the best we can under the circumstances and give thanks that we can slowly get back to worship in a new way. We have had liturgical changes in the past and we have adjusted well. Though sometimes this old timer forgets new language and goes back to the former. But we did it together as a community. We will get through this as a community of faith as well. We all begin again a new. Of course, some things will be the same, and I am grateful for that fact also.
Michael O'Loughlin in America Magazine stated that Diocese ahead of us here in New York began gradual reopening's and others are in phases. They are all figuring out how to protect worshippers while offering Catholics access to the sacraments and a return to the parish community. He said that there still are unanswered questions. Auxiliary Bishop Ron Hicks (Chicago) said in the article that now public health comes first in the reopening. The bishop said his Archdiocese will do it gradual. He said when we do reopen, parishes will implement several measures aimed at reducing the spread of the virus. Dr. Vivekandan in the piece said, the elderly and other vulnerable populations should continue to stay home until a vaccine or effective treatments are widely available. She said, 'This virus is not going away; it's going to be here for a while."
Some churches will begin to offer pre-screening, social distancing and hand hygiene which are vital to keeping people safe. Some church ministers will take a person's temperature and screen them for symptoms as they enter church. They may ask if they have a cough, sore throat or shortness of breath. If they say yes or have a temp over 99.9, they may ask them to refrain from entering church.
For those not sick, parishioners will have to access hand washing or sanitization station near the entrance of church. Everyone will be required to wear a face mask and sit in a pew six feet apart from the next worshipper. If someone is sick, please don't come to church or go to work where other people can be infected.
The U.S. Conference of Catholic Bishop's in the article said that each Bishop will decide when and how to reopen churches based on the circumstances of his diocese and considering the guidelines set they their local officials.
These are some of the changes that we face in reopening. I hope that as you read this you will feel safe and secure in returning to church after these ten weeks. We are doing everything possible to make sure we are all safe in worship. The pandemic has changed us and our way to worship. However, I hope we see the new freedoms it can offer us and how we can change for the better. There is no way we can return to the way we were. I am certainly looking forward in eager anticipation to seeing all of us together again. We may be smaller as a group of limited number allowed in church, but we will get there, nonetheless. Since this is all new and unchartered territory, please be patient with us as we figure this out.
Peace,
Fr.  Jim
https://docs.google.com/forms/d/e/1FAIpQLScQiMHznktvR6YKyh3hNrCsC7FE9IdssoaIf7t_fA66muksYw/viewform?usp=sf_link
We are a friendly, welcoming Roman
Catholic
community serving the people of Bath and Hammondsport, New York.  As part of the
Diocese of Rochester
, we presently have over 400 families called by God to live out the message of Christ in love and service to all people. If you will be visiting Bath or Hammondsport, or if you plan to settle in the area, we invite you to visit and join us for mass.
We hope that you will enjoy searching through our website. There are many pages here that provide useful information about the Roman Catholic Church and about St. John Vianney Parish. If you do not find what you are looking for, please email us or call one of our parish offices.
Masses & Other Liturgies
Starting June 20 & 21 2020
St. Mary's- Bath
WEEKEND: 
Saturday 3:00 pm to 3:45 pm Confession
Saturday 4:00 pm Mass
Sunday  9:30 am
** No weekday Mass at this current time******
St. Gabriel's- Hammondsport
WEEKEND:
Sunday 8:00 am 
Sunday 11:30 am
** No weekday Mass at this current time******