WE ARE REOPENING... JUNE 20 & 21 2020
A MESSAGE FROM FR. JAMES JAEGER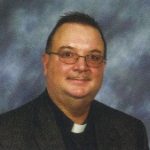 It is a blessing to be back to Mass in church. It is a blessing to have the office partially reopened too. However, a  mask is required at churches and in the office.  Speaking of the office, I like you to feel free to come in to see me.   You can also make an appointment to talk on the phone if you feel safer at home and not in public.  You can also make a Zoom appointment with me.  This a way you can see me & I can see you. Isn't new technology GREAT!    Let us use our technology and our time to reach out and connect again. This way we all can remain safe and socially distanced.
Please call the rectory (607)776-3327 and talk with Cindy so we can schedule an appointment.  I miss seeing all of you at Mass. Let us rebuild our friendship and our spirits even though we can't gather together yet as a Community.
Blessing's
Father  Jim
__________________________________________________________
Poinsettia and wreath sale, click link below to order:
We are a friendly, welcoming Roman
Catholic
community serving the people of Bath and Hammondsport, New York.  As part of the
Diocese of Rochester
, we presently have over 400 families called by God to live out the message of Christ in love and service to all people. If you will be visiting Bath or Hammondsport, or if you plan to settle in the area, we invite you to visit and join us for mass.
We hope that you will enjoy searching through our website. There are many pages here that provide useful information about the Roman Catholic Church and about St. John Vianney Parish. If you do not find what you are looking for, please email us or call one of our parish offices.
Masses & Other Liturgies
St. Mary's- Bath
WEEKEND: 
Saturday 3:00 pm to 3:45 pm Confession
Saturday 4:00 pm Mass
Sunday  9:30 am
** No weekday Mass at this current time******
St. Gabriel's- Hammondsport
WEEKEND:
Sunday 8:00 am 
** No weekday Mass at this current time******